Tony Thornton - Obituary and Tributes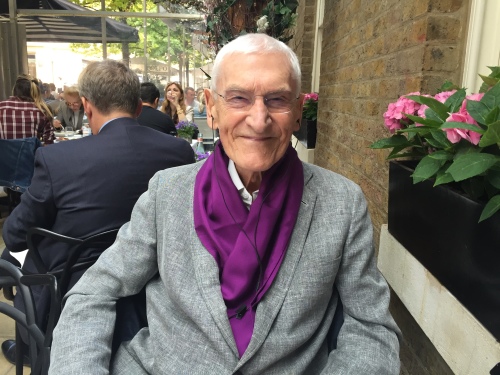 It was with great sadness that my fellow trustees and I learnt of the death of Tony Thornton MBE, founder of the Mayfield Valley Arts Trust, who passed away peacefully on the 31st January aged 91.

Tony was a truly remarkable man, philanthropist par- excellence, and a great patron of music in Yorkshire and elsewhere. During a highly successful business career, he was Chairman of Thorntons until his retirement in 1984. He then embarked on a second career using his expertise and business acumen to develop music and the arts in Yorkshire. Tony was initially involved in transforming the fortunes of the Crucible Theatre where, as Chairman of the Sheffield Theatres Trust, he made the Studio Theatre available to the Lindsay String Quartet for the first of their visionary festivals which he personally sponsored. The Festival was a success and, to enable it to continue, Tony created the Sheffield Chamber Music Festival Trust.

In 1987 Tony came to see me at the Arts Council of Great Britain to discuss setting up a trust to ensure that his very generous support for the arts could be protected for the future. The Mayfield Valley Arts Trust was launched and it has been my privilege to serve as a trustee and latterly as Chair for 33 years. Despite my best efforts, Tony insisted that the Trust should not carry his name but be named after the beautiful Mayfield Valley where he and his wife 'Scilla spent so many happy days walking and cycling.

Tony wrote a brief history of the Trust for the launch of the MVAT Website in 2018 and, with characteristic modesty, chose not to mention the indispensable role he played in its growth and development. Tony was an outstanding Chairman and, whilst MVAT was his baby, he ensured that the Trust took the best possible advice both from fellow trustees and experts elsewhere. He took a close interest in the financial affairs of the Trust and, under his careful guidance, income continued to grow throughout the financial cycles. He was also a stickler for procedure and ensured that applications for support were rigorously assessed and advice given if rejected. MVAT worked closely with its beneficiaries as a partner, not just a funder. Delma Tomlin, Chief Executive of the NCEM York, has perfectly captures Tony's early achievements as Chairman in her memoir below.

In between trust meetings, and always at their own expense, Tony and 'Scilla were perfect hosts. Invitations to Glyndebourne were regular occurrences as were sumptuous lunches at Rules in Maiden Lane which allowed us to indulge in delicious puddings that were definitely not on the menu at home! These gatherings were enlivened by plenty of music industry gossip; to the end of his life, Tony enjoyed following the comings and goings of the great and not so good characters that populated our lives!

As the years went by, the Trust refined its policy and, under Tony's guidance, focused its work on a small number of outstanding organisations to whom it has been able to give security of funding. This proved to be of inestimable value as arts funding fell victim to ever- changing government policies and spoke volumes for Tony's independent Yorkshire spirit. It gave him great pleasure to see these organisations grow and develop as a result. In 2018, following a series of excellent investment returns, the Trust created a fund to support new initiatives in the arts. The AHT Enterprise Fund enabled the Trust to seek out young organisations that matched its objectives and support them as they found their feet, a cause dear to Tony and his fellow trustees.

Through MVAT, Tony gave substantial sums to music and the arts and transformed countless lives in Yorkshire and beyond. His legacy will, I hope, encourage others to follow his example.

Tony had wide musical interests, but chamber music and Lieder recitals were his passion. He was never happier than when attending the York Early Music Festival, Live Music Now, Prussia Cove, the Wigmore Hall, the Sheffield Chamber Music Festival and the many concerts he supported either personally, or through MVAT. He had excellent judgement which was valued by the many great artists who became personal friends.

In later years he enjoyed the Berlin Philharmonic via their Digital Concert Hall which prompted many enquiries about conductors old and new. Sir Simon Rattle's move from Berlin to London was the subject of much discussion and, in our last conversation, he wanted to know why Simon had returned to Germany. He was forever curious which is why he was such good company up to the very end of his life.

Tony was a true gentleman, he never sought recognition and we were all thrilled when he was awarded an MBE in 2018 for services to music in Yorkshire. We owe him an immense debt of gratitude for his friendship and generosity, his passing leaves a gap in all our lives. As MVAT trustees we will continue to ensure that Tony's vision continues to burn bright, and that his legacy lives on to support the art form that he so dearly loved.
David Whelton OBE Chair MVAT 6/02/21
====================================
Tony Thornton - A tribute by Delma Tomlin

Tony Thornton MBE was a truly generous man who dedicated himself to supporting music-making across Yorkshire – he was also my friend and mentor and I will miss him beyond measure.
From the mid '80s, when he was the Chairman of the Sheffield Chamber Music Festival working with the Lindsays, and I was administrator, we shared a love of chamber music and in supporting musicals excellence. Exporting the Sheffield festival 'brand' to the Wigmore Hall and Blackheath Concert Hall; extending the Crucible Studio Theatre to add in an extra layer of seating, and creating the Mayfield Valley Arts Trust to support these ventures took courage, determination and an absolute belief that music mattered.

I was privileged to be at the centre of it all. It wasn't always easy, but it was fun, and Tony was the ideal Chairman – supportive but keen to challenge, particularly when artistic plans looked just a little too 'creative'! As the festival morphed into "Music in the Round", I left Sheffield to focus on the developing the York Early Music Foundation. Tony, and his wife 'Scilla, remained as friends and took an interest in my increasingly ambitious plans to create a National Centre for Early Music in York. In 1997, the Mayfield Valley Arts Trust made their first grant to the Foundation – supporting a new Christmas festival designed to 'test the water' to see what interest there might be from York audiences. The rest is history.

This vital annual support offered us a firm bedrock from which we gradually built the business case for the restoration of St Margaret's Church and the creation of the NCEM. Throughout, Tony continued to challenge me to make carefully considered decisions, to show artistic flair, but always to ground my ambitions in thoughtful financial planning, partnership and vitally to work with board of supportive, informed trustees. 21 years on, the NCEM is an acknowledged centre of musical excellence supporting young emerging musicians and professionals alike. An Arts Council NPO, the NCEM partners with organisations from across Europe to support talented young musicians and ensembles.

I can only say I that was so very fortunate to know him, and to have his trust and friendship.

Delma Tomlin MBE DUniv